Are you looking for a new opportunity? Manor Software is actively expanding its team. If you're searching for a new job, here are four quick reasons why you should consider working for Manor Software.
We had a pleasant chat with Jérémie Geus, Director of IT Customer Service at Manor, on a cold winter day as he was working from a home office, almost uninterrupted by kids. Manor Software Zagreb is integrated with Manor AG, the Swiss parent company and the biggest omnichannel department store chain in Switzerland. Here are the key takeaways on what makes Manor a cool place to work from our short interview with Jérémie.
Bring your own idea– Manor AG and Manor Software teams allow flexibility for developers to try new ideas when solving a problem or creating a product.
"Basically, it's very seldom that I've seen a company where the bottom-up aspect is so vital to all levels of the company. There is real and truthful empowerment of the employees, "- said Jérémie.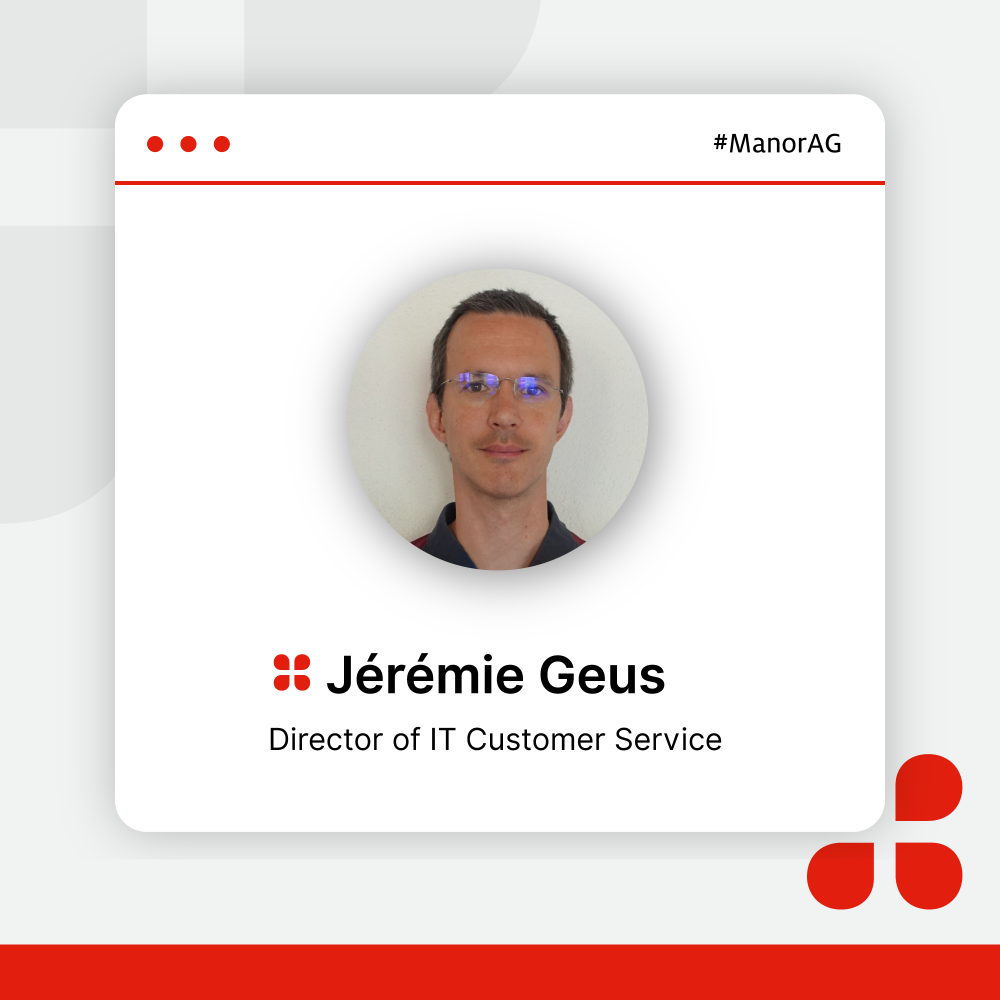 The idea in Manor AG is to support employees in their job and look at how to accelerate the delivery and support them. The leadership team provides guidance and leadership but accepts ideas from team members. Jérémie Geus described a situation where team members changed the workflow process for the product.
"I was so happy because, hey, at the end of the day, the guys who are doing the job came with the method and didn't wait on me saying, hey, Jeremy, it doesn't work. So we really have the teams come up with solutions to their problems, and well, I'm just there basically to support them when they need it."
Manor operates in a multilingual and international environment. Such a multicultural environment can broaden your horizons, and you can get in touch with people from various cultures. It's hard not to appreciate such a company culture.
"The fact is that I switch languages three times a day, at the very least, and I switch from French to German to English sometime. So I'm almost unable to work in the one land environment anymore."
The Manor Software employees also have the opportunity to travel to Basel HQ a couple of times a year, but team meetings can take place in other countries too.
Agile workflow– Most developers are accustomed to agile. IT Customer Services and eCommerce teams are paving the way for agility at Manor AG. The main driving force behind the agile approach, as Jeremie sees it, is:
"Agile means giving, empowering the people who do the work. So basically, the people who decide are the people who do the work and not the people who look at the work."
Five agile teams in Manor AG are working on sprints. The team incorporates business analysts, developers, testers, product owners, and application managers in an inclusive culture with short communication lines between the ranks.
Cool things implemented- Projects are often the essential reason some developers choose jobs, and the Manor IT team has recently worked on some exciting ones. Manor recognized very early the symbiosis between department stores and online shopping. Unified commerce is the term used to address customer behavior, enabling flexibility in where and how to buy stuff.
"We must build an eCommerce solution that blends in with our department stores. One of the cool improvements is the Click and Collect Express."
Customers can pay online and pick it up in the store or create an order online and pay and collect at the store. So, naturally, they can pay online and get things delivered. The eCommerce team is working on numerous solutions like wishlists, taking the powers of social media, new web native apps, and other projects.
"We are looking very strongly into the fields of composable commerce, a network of self-contained services that supports the commerce operations."
? Manor Software is expanding its team, and if you want to join an inclusive multinational and agile IT team, we will have new positions open in the upcoming days.